 Get Listed On
iVvy Marketplace
Have your venue viewed by 30,000+ event organisers using iVvy Marketplace each month.

Showcase your facilities, increase booking enquiries, and fill your calendar with events of all sizes.
iVvy Marketplace is your solution to greater venue exposure.
Promote Your Venue. Sell More Space.
Whether you're a hotel, restaurant, club, golf course, unique venue or function centre, iVvy can help drive your venue further by streamlining your booking process, and placing your venue before event organisers looking for an ideal spot to host their next gathering.
Prepare your venue to generate revenue 24/7 with iVvy Marketplace.

Improve Your Booking Process
Streamline your venue's booking process, reducing your team's time, capturing more leads and increasing your changes of converting.

Increase Your Revenue
Increase your revenue opportunities with a marketplace ready to capture leads 24/7 for your venue space.

Expand Your Reach
30,000+ event organisers visit the iVvy marketplace each month. Be seen when they are ready to enquire.
Six Weeks To Six Minutes
We've removed the booking process's friction to reduce your team's time and resources in landing the venue hire. Get listed on iVvy's marketplace and get exposure to event organisers searching for a venue space for their next event.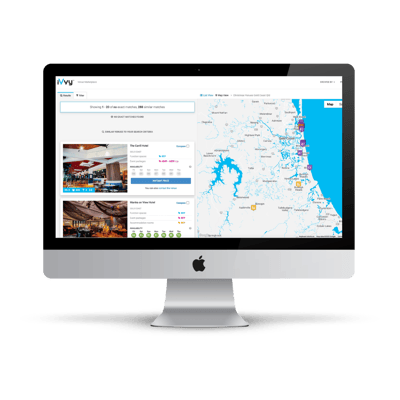 Loved by thousands of users